How to password-protect a PDF file without Adobe Acrobat
Sometimes we all have to deal with PDF files that contain sensitive information. And we don't want our private data to land in the wrong hands (obviously).
We guess you sometimes feel the same way.
Maybe you're sending confidential business material;
Maybe your PDF consists of personal documents;
Perhaps you're sharing your financial info and tax numbers;
Maybe you're sending an email and your PDF attachment is a proposal to a big client.
In all these cases, here's a quick tip: password-protect your PDF document.
Your PDF's content will be encrypted. No person or program will be able to access it without entering the correct password first. This way, random people will be unable to open and engage with your sensitive PDF details.
At this point, many people think, "Is it pricey?"
No. In fact, you don't need to pay at all. You can password-protect your PDF file for free, without having to spend hundreds of bucks on the full Adobe Acrobat program.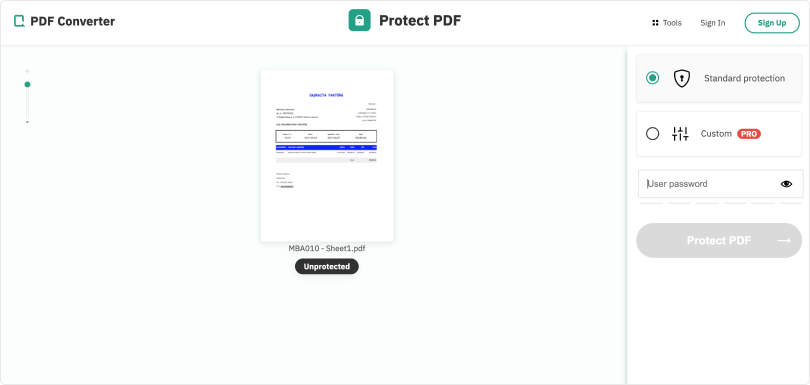 What's the trick?
HINT: it has everything to do with picking the right tools for the job.
Check out the Protect PDF online. You'll learn how to protect your PDF document in the blink of an eye. Follow a few steps:
Upload PDF file(s) to set a password.

Enter a strong password to lock your PDF document. We'll let you know if your password is weak, medium, or strong.

Click "Protect PDF", wait a few seconds, and your secured files will be ready to download.
Our job is to keep it all simple (and free). We know how annoying it can be to install new software on your device – especially when apps like Adobe cost quite a bit of money. To make smart decisions, you must know that you can have your documents secured online within seconds – for a juicy price of zero.
Now here's one thing that people often have concerns about: SAFETY. How secure is uploading your files online? Here are a few facts to (hopefully) put your mind at ease:
All files and passwords are transferred using secure SSL connections;
All files are deleted permanently after 3 hours;
All passwords are deleted as soon as the processing is complete.
Sometimes, such password protection will be absolutely enough. But sometimes, you'll want an extra layer of safety. On such occasions, we're on your team (as usual). You can order a PRO version and use advanced features, such as forbidding people to edit or print the PDF document. Once you discover how effortless it is to lock a PDF, you'll keep coming back to this functionality over and over again.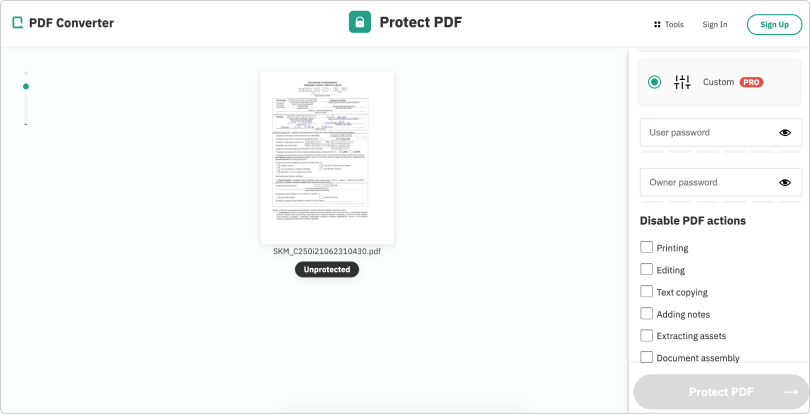 At the end of the day, it's your document – your rules. If having strangers' eyes glued to your personal info doesn't sound like an adorable idea, you call the shots. For everyone who doesn't fancy their documents falling into random hands, Protect PDF solution is a nice-to-have addition to your toolbox.
Learning how to protect pdf documents doesn't have to be painful. But don't take our word for it. Try a PDF password-protect solution now: for free, without Acrobat, and without giving yourself any hard time at all.